A lucid dream is the name given to the conscious awareness of dreaming whilst in the dream state, in a nut shell, knowing your asleep when asleep.
Usually you realise that something is not what it is supposed to be, and you realise that you are dreaming.
Hang on... Something's not right!
Those bugs are supposed to fly!
I know what it sounds like, most people will probably disregard this as mystical hoo-ha! (Insert Al Pacino sound effect here) However it is not! Lucid Dreaming is honoured in the medical world so much that there is a lucid dreaming laboratory run by DR. Stephen LeBerge… YES a real Doctor.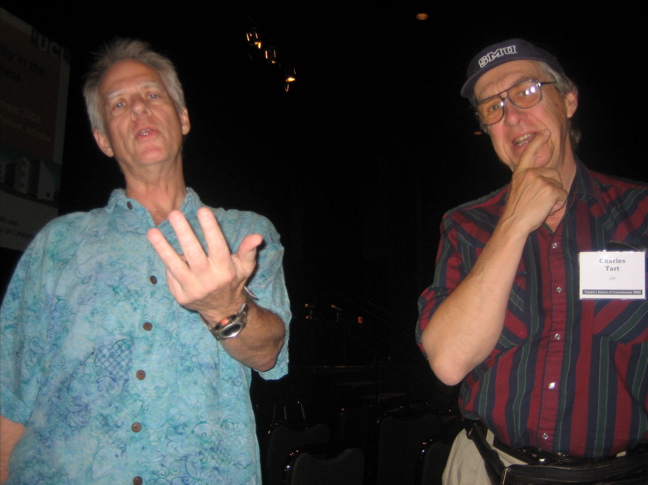 Dr. Stephan LaBerge on the left, throwing up his gang sign!
If you gain a high enough level of "lucidity" you can control your body, people next to you, shape the world and more. Basically anything that the brain controls you can control, a bit like Matt Parkman from Heroes… only in dreams.
Once you get the basics done flying, running, creating objects, etc. you can start the magical stuff. In a dream there are no physics, it like the matrix only more awesome. So anything is possible, personally one example of this is when I flew to the moon (that was bright purple). You can mess around with X-Men like abilities and start to throw fireballs at your dream characters.
"I own you noobtard!"
As this is called Insightful Lucid Dreaming it begs the question… If I can do anything, what will I do? In a world where anything is possible and you can get away with it too what will you do with no boundaries. A horrible thought, you could kill the pope, club a seal pup, strangle Mr. Burns or laugh in the face of the misfortunate.
However this tells me that I am a good person I have been lucid dreaming now for a few years and I can say hand on heart that I have not done anything malicious in a dream against anyone or anything, and I have a pretty active and elaborate imagination. The only thing that comes close is me slapping a Ring-Wraith in the face because he was trying to turn me into a ghost. I call it self defence.